What
we do
In a changing environment, now more than ever, it is essential to partner with a company that thinks innovatively and is ahead of the industry curve.
You will find that we are dedicated to transparent, pioneering risk management refreshing and can rest assured that your business interests are always top-of-mind amongst our entrepreneurial team of committed professionals.
Make your partnership work for you by contacting us today.
Our clients & portfolio revenues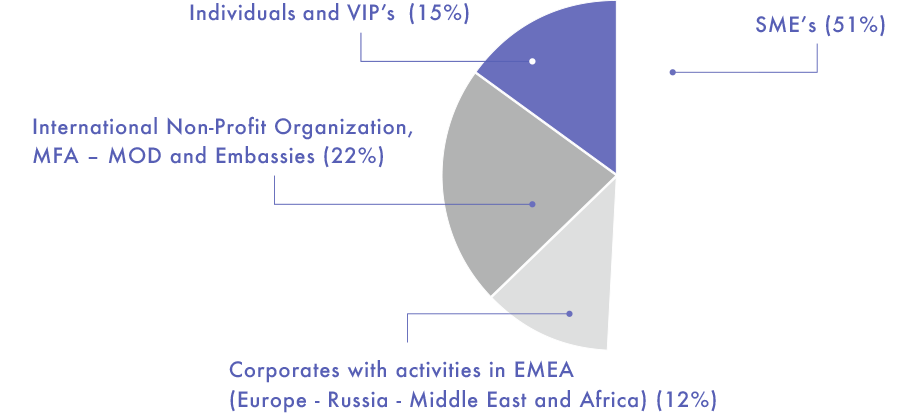 Managing Partner
Julien DE MAERE
Julien was born in 1976. In 2006 after 7 years of experience in one of the major Belgian Insurance brokers as account manager for SME's (small and medium enterprises), he decided to improve his experience in Life insurance.He joined AXA Belgium as Life and Pension Account Manager to support Brussels insurance brokers in their development.
After 6 years in this position he decided to join the board of Triangle Partners in November 2013.
Julien holds a Bachelor degree in Insurance from the "Haute Ecole Fransisco Ferrer".
Managing Partner
Valéry SAFARIAN
Valéry was born in 1980. Valéry has an extensive experience within the world of insurance brokerage. For the last 12 years Valéry has been working for major international brokers networks in Europe such as Willis, Wells Fargo and was for 4 years appointed as Commercial Director of a top 10 Insurance broker in Belgium. For 3 years until July 2017, Valéry was posted in Africa (Kinshasa) to manage a subsidiary of a major Belgian Insurance Broker.
Valéry holds a Master Degree in Finance and Commercial Sciences from the "Haute École Fransisco Ferrer – ULB"(Belgium), a Post Master Degree in Marketing Management from the "Haute École de Commerce Ichec" (Belgium) and a Bachelor degree in Finance from the "Haute Ecole Fransisco Ferrer" – ULB (Belgium).
Head of Administration & Claims
Sara VAN SCHEL
Sara was born in 1980. Sara has been working for the last 13 years for major Insurance and Financial groups such as Group Fortis Bank (Bnp Paribas Fortis), AXA bank and Ag Insurance. Sara has also been working in Africa as an "expat" for a leading Insurance Group.
Sara holds a bachelor degree in Management from the "Haute Ecole Isalt".